Chiropractic Care During Pregnancy
As a pregnant mom you are making sure you are eating healthy and exercising. You have purchased all the necessary items for your pregnancy and for the nursery. But have you had your nervous system checked by a chiropractor? When the nervous system is working properly it allows your body as well as your baby's growing body to develop and function with more ease.
Chiropractic adjustments result in:
A balanced pelvis which reduces the amount of restriction around the baby and can prevent breech, posterior or transverse malpositioning.
Decreased labor time.
Relief of back, pubic and sciatic pain.
Prevention of birth trauma.
Comfort of the mother and ease of labor. Prevention of dystocia or difficult labor that can occur with decreased nerve function, pelvic imbalance, and baby positioning.
Research has shown that:
Women who receive chiropractic care were able to carry and deliver with more comfort.
There is a 50% reduction in the need for analgesics (drugs that relieve pain) during delivery for pregnant mothers under chiropractic care.
91% of pregnant women reported pain relief while under chiropractic care.
There is a 24% reduction in the duration of labor in first-time moms.
There is a 39% shorter delivery time for mothers delivering for the second or more times.
Postpartum pain was reduced 75% for mothers under chiropractic care.
Dr. Anacker Works With Your Delivery Team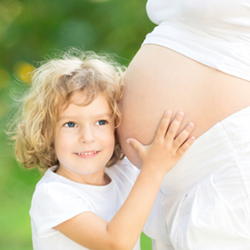 Dr. Jennifer Anacker has received extensive education, training and experience in the care for pregnant women and newborns. She is well known in the Treasure Valley birthing community and co-cares with midwives, obstetricians, doulas and other pregnancy professionals. She is certified in the Webster's Technique and incorporates that technique as well as other pregnancy techniques during care. The Webster's technique is utilized in the latter trimester of pregnancy and employs specific chiropractic analysis and adjustments of the pelvis. This technique also relieves tension of the abdominal muscles and ligaments surrounding the uterus allowing the baby to move into the best possible position for birth.
For more information about the Webster's Technique and wellness for children please visit www.icpa4kids.com.
Are you expecting? Call us today at (208) 288-1776.